Ballyhoo: A Barrel Full of Democracy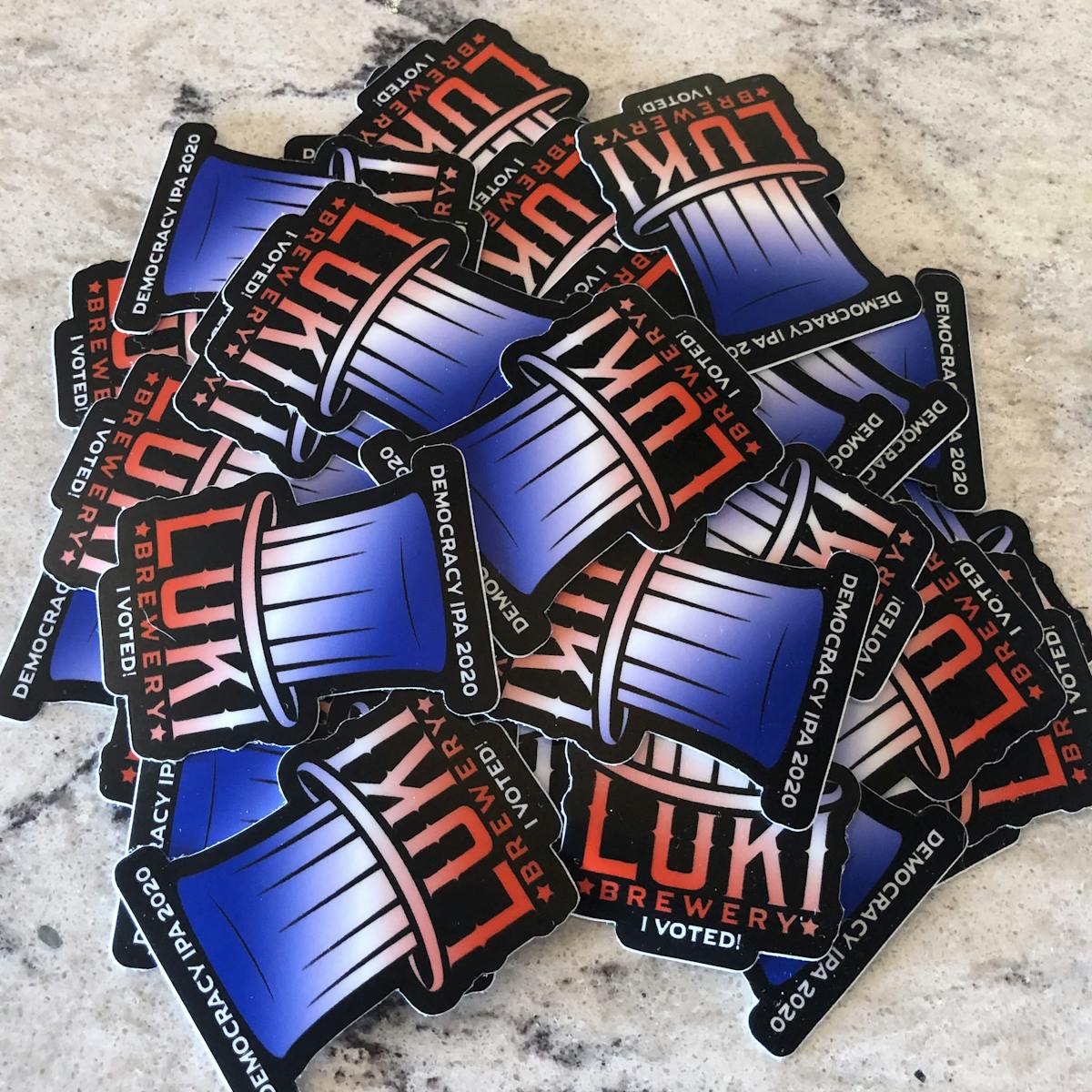 No, this isn't a political post, but it is going to be a bit of a detour from my normal written insanity. Although I always seem to come up with innate topics to fill a whole page about, I decided last month that I would use this space to talk about our customer-voted IPA style. Not the grand picture of why we did it (despite what internet beer trolls think it was), but to talk semi-technical about the decisions we made.
So, if you're here for the terrible attempt at comedy, I hate to disappoint. Maybe try again next month?
Just want the data? That's cool, but it's lost to time and the old website. And here, let it be known, is the only edit I made moving my blog posts from the only to new site.
Moving on… at the start, we were fairly sure it was going to be another Hazy IPA, with heavy citrus or fruit. The voting went that way in a hurry. We held our breath on the lactose question – that was going to force our hand into the "Milkshake" realm of IPA, which would have been ok if a fruit addition would have come on stronger. But only 1 out of 4 people wanted lactose or fruit in their IPA. So, the Milkshake IPA gets booted to another time and place.
What I found surprising is that a heavy bitterness or high alcohol did NOT pan out. I was thinking people would want these cranked up to the maximum, but that was not the case… 60-80 IBU won with 1/3 of the vote, with 40-60 coming in second with 1/4 of all those voting. Also, a modest 5-7% ABV won in a landslide with 68% of the vote. We're all impressed with the responsible choices!
Everything else went as expected. The top hop flavor choices were, in order: Citrus, Fruity, Evergreen, and Spicy. Those four made up 75% of the responses. No love for Herbal, Earthy, or Floral, so no dank Strata hops for this beer. The beer color went the way we thought, too – no Black IPA this go around, although it's definitely in the planning stages for a future release. And no barrel aging, coffee, or souring this IPA. Barrel age came the closest at 40%, but nobody wanted these combinations in the beer.
The only major voting conflict was in two yeast questions. On one hand, hazy won with 46% responses, but in the specific yeast type question, 49% responded with a choice of "still a clear beer, but a calling card left of some flavorful complexity". We let the haze win in this case and left the flavorful complexity to the malt and hop bill. Somewhat of a cop-out, but considering it was the only response that conflicted, we felt this was the right choice.
How to make a beer with all of this guidance, and not just be another version of our Hop Spinning Hazy which already satisfies most of these winning choices?
First, we took a typical hazy grain bill, but upped the percentage of flaked wheat and oat to make it as cloudy as possible. We switched North American base malts to a Belgian Pilsner, to give it a slightly different grain-like and biscuit complexity. Since the malt came down to a single vote ("Straw/Yellow" won versus "Darker Gold"), we felt that leaning a bit heavier on the biscuit profile was warranted.
Hop-wise, we wanted to stay as far away from the Cascade, Simcoe, Mosaic, El Dorado combo we use on Hop Spinning Hazy. That was tough, but luckily there are a lot of hops out these days which offer something different. We looked at dry hopping and aroma additions first. Idaho 7 was a great first choice, since it offered the tropical fruit with some pine and a bit of black tea spice. But we were worried about the pine/spice being too heavy, so we looked to back it with something dripping with citrus. We managed to get our hands on enough Galaxy to work 2-to-1 with the Idaho 7, so that became our major aroma profile. For bittering we went with Amarillo, a great dual-purpose hop – even though the boil basically eliminates the profile, we felt the citrus flavor would play nice if any residual components came through.
The malt and hop quantities were dialed in to match what we needed for ABV and IBU. Finally, yeast. We didn't play around here; we went with a commercial pitch of White Lab's London Fog. There are other great choices, and Hop Spinning Hazy now uses a local company for its pitch, but London Fog has some residual sweetness that accentuates the hop bill, so we chose that brand to ferment this release.
The result is a Hazy IPA that is different than Hop Spinning Hazy, and we're really excited about that. Enough to keep around? We'll see. As I've told anyone who wants to listen, I don't want LUKI to become the place where there are four different hazy beers on tap, and you're expected to know the difference. But for the next couple of weeks, we'll enjoy our hazy bois, and see who wins out: Hop Spinning Hazy or Democracy IPA, in some sort of weird meta-voting process.
Finally, have you seen the Netflix comedy "Brews Brothers"? You're really lucky if you haven't, it's a horrible show. We have yet to make it through the entire season. But there was one thing they nailed, how some in the beer community act like you need to have an advanced cicerone certificate to be able to enjoy a beer. I loved that psydo-commentary, and felt it's appropriate to bring up here. I 100% agree, and all that analysis above about hop selection made me think of this from the show. The choices we made on this recipe? Not everyone is going to agree with them, especially not "angry internet beer lover". Relax. There are a lot more things to be concerned about right now. Share and enjoy.
Cheers,
-Jeff
November 2, 2020
Written while drinking Citradelic by New Belgium Brewery.