Ballyhoo: Spin the Wheel of Topics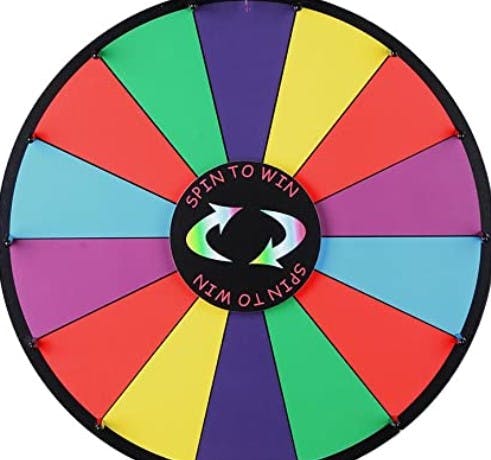 It's a bit of an anniversary. One year ago, tomorrow, I broke the silence for those who signed up for the mailing list. I thought I was clever starting on April 1st. Look at us now, a year later and we're still not open. The joke's on me, I suppose. Despite current circumstances, construction is still progressing. In fact, tomorrow our brewhouse is delivering. On Friday, our "looks like someone drove into the building" plywood gets replaced with real garage doors.
For today's blog, it would be easy to ramble about the current global health crisis, but I won't. Instead, I'm cleaning out my closet of thoughts that are too short for a full blog post. Let's spin the wheel of topics and see where it lands…
WHAT'S A LUKI?
I've said it in several places, but I will say it here as well. For starters, it's pronounced "Loo-Key". It's not a family name, it's the combination of our daughters' nicknames (Lulu and Kiki). We picked this long ago in the homebrewing days. As we decided to go professional, we felt the themes of family were important to our message, so we decided to keep it. The name is unique, and not just a beer pun. That said, we regularly get variants like "Lucky", "Loki", and "Luke-I". That's fine, I don't think I said Chipotle correctly in the beginning, either. Just come enjoy a beer.
FOOD?
This blog post would be "All Things to All People Part 1". We really wanted to do food. We would never have the space for a full kitchen, but certainly some high-end appetizers. We worked it over in the plan and ultimately struggled to find something reasonable to execute. Food trucks are not really in the plan, either. Maybe on special occasions, but we'd rather partner with some of the great restaurants that are right by the brewery. We will, however, have some gourmet snacks… fun side dishes fitting the theme. And yes, free popcorn.
DO YOU HAVE (INSERT OBLIGATORY PATIO GAME HERE)?
"All Things to All People Part 2". We've taken too many visits to destination breweries, and love the concept enough that it messed with our heads. One of our favorites is Stone Brewing, walking through their beer garden is transformative and magical. So, when we started sketching out what we wanted outside on our patio, it was a ridiculous list. An area to put up carnival games, giant Jenga, giant Connect-4, bocce ball courts, a dog run area, a separate kid's area jungle gym, multiple fire pits, and a large area for outdoor movies. That's only some of it. We'd still be looking for that property if we didn't loosen up on our dreams. It's ok, we still have a good patio for unique activities.
KID OR PET FRIENDLY?
When you read "dog run" and "jungle gym" above, I bet you thought of this question. I wrote a whole blog on this, but scrapped it at the last minute. It came across as a long-winded policy, and that's not what I wanted to say. Really, all are welcome at our brewery... until they are not. Poorly behaving kids and pets are like poorly behaving adults. Sometimes they need to be cut off and asked to leave. And they will. Until that happens, we're open to all as part of an inclusive community. Will this paragraph age poorly, as we are forced to put in a restrictive policy? Maybe. We hope not.
ANYTHING BESIDES BEER?
This is the final chapter of the "All Things" trilogy, and the short answer is no-kinda-maybe. Day one it's just beer. Also, on day one (or shortly after) we will have some type of non-alcoholic craft soda on tap. Over the years, we've really enjoyed making it, and we want to share some unusual recipes while rotating them seasonally. As far as gluten free beer? Down the road a bit. We'll be looking for a partner to bring that kind of offering, as I want to rely on experts in this realm such as Holidaily Brewing. We've done gluten-reduced beer before, but we're not comfortable advertising as such given the potential health risks. Cider? Well, that's going to depend on licensing, and that's much farther down the road once we have our legs underneath us a bit. Hard Seltzer? (Takes deep breath.) Yes, if enough people are interested in it.
WHAT'S WITH THE CAMARADERIE THING YOU KEEP TRYING TO MAKE HAPPEN?
I saved this one for last, as it's a key element in our brewery. It's been mentioned in several social media posts. Breweries tend to be all about collaboration and community. And those are important pieces of what we're doing, but camaraderie is above all else. There's really nothing like the feeling of "we're all in this together". Appropriate for the times, but whether it's being on a sports team, performance group, or any crew trying to pull something together against all odds… succeed or fail, there is power in a shared joy or sadness.
My wife and I met in marching band at the University of Colorado. Back when CU had to play schools in Kansas and Oklahoma, we'd get that one away trip where they would bus us, twenty-plus hours, to the game. We'd stay Friday night with host families, play at a local high school football game, then get to the college game the next morning in a hostile, home-crowd environment. After, we'd be sweaty and exhausted, but then get together in the hotel and party like nerdy rock stars. Next day, it's back on the bus to ride twenty hours back to Boulder. Imagine doing that daily for an entire year. At a core level, that's the inclusion, bonding, and camaraderie of the traveling circus. We want to share that feeling as much as possible.
It's going to take time, but we're building toward this same camaraderie through fun events, a community-driven beer menu, and lots of activities. It's almost here. No foolin'. See you soon.
Stay Healthy,
-Jeff
March 31, 2020
Written while drinking a G'Knight by Oskar Blues Brewery.