LUKI Announces Winners - Spent Grain Bake Off Holiday Edition 2022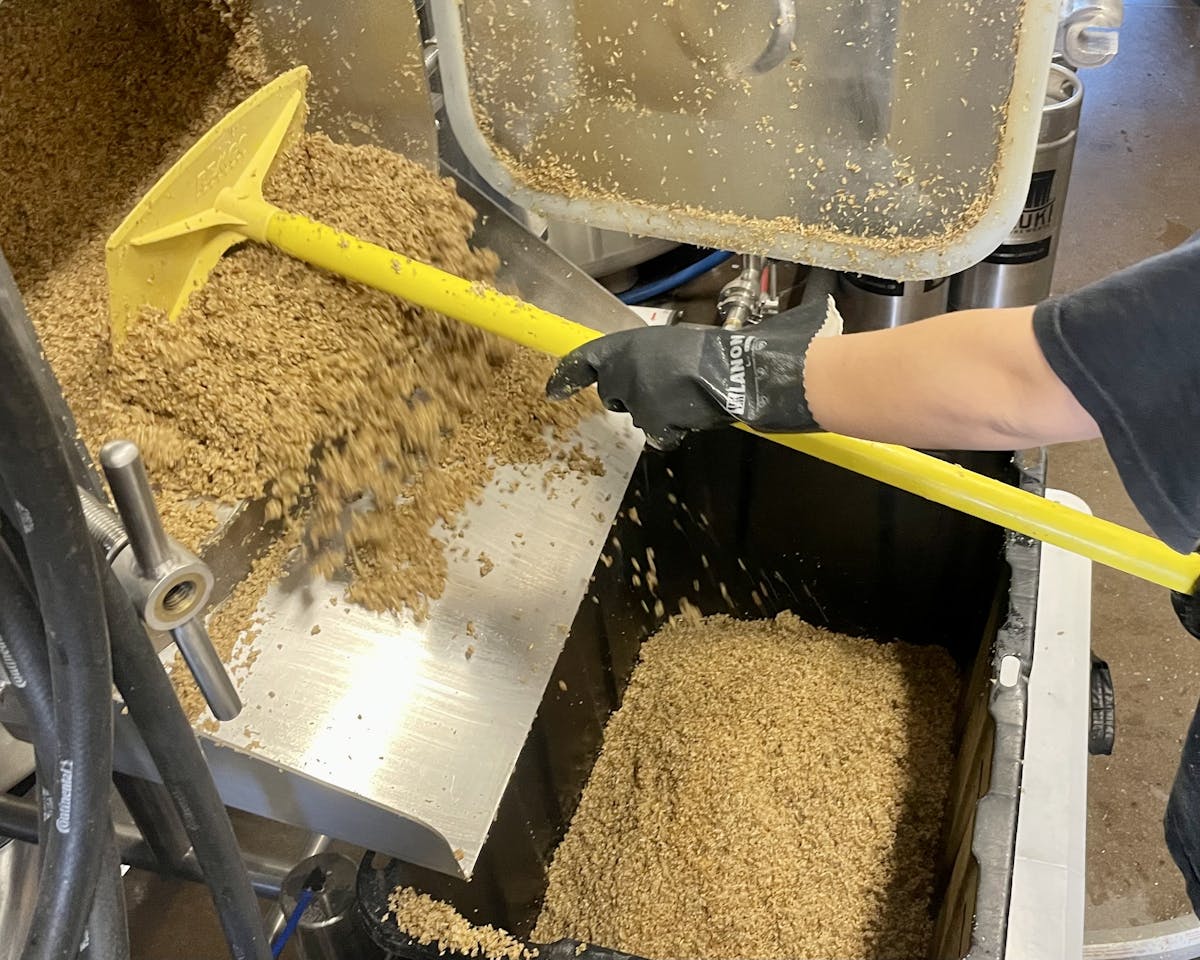 Thanks to all who participated! Here are the winning recipes for you to try at home:
HUMAN TREATS:
1st Place, Cheryl Johnson's Beer & Pretzel Peanut Brittle
2nd Place, Donna Speirs' Spent Grain Waffles
3rd Place (tie), Kim Orr's Chocolate Crinkle Cookies
3rd Place (tie), Sue Scott's Spent Grain Energy Bars
DOGGO TREATS:
1st Place, Cheryl Johnson's Doggy Beer Liver Treats
---
1st Place, Cheryl Johnson's Beer & Pretzel Peanut Brittle
Ingredients
About 16 mini pretzel twists
1 cup dried spent grain
1 cup sugar
1/2 cup light corn syrup
1 heaping cup roasted salted peanuts
1 Tablespoon salted butter
1 teaspoon baking soda
1 teaspoon vanilla
Coarse salt optional
Instructions
Line a large baking sheet with parchment paper. Scatter broken pretzel twist and spent grain evenly across the middle of the sheet covering an area about 10 x 8. No need to measure, you just want to spread them far enough so that it will be covered by the brittle but not so far that the brittle won't reach it when you're pouring/spreading.
Spray a wooden spoon or silicone spatula with cooking spray and set aside.
Mix together the sugar and corn syrup in a medium microwave safe bowl.
Microwave the sugar mixture uncovered on high for 5 minutes. You'll end up with a very hot, bubbly clear sugar syrup.
Meanwhile make sure your nuts and butter are measured and ready to go.
When the 5 minutes is up, quickly stir in nuts & butter. Mix it until the butter is fully melted and combined.
Microwave the mixture for another 2-3 minutes or until a light caramel color is achieved. (See notes, this step may take shorter or longer depending on your microwave and bowl.)
Remove the bowl from the microwave and quickly add the vanilla and baking soda. Using the spoon/spatula that you sprayed with cooking spray, stir quickly until combined. The mixture will bubble up and get creamy.
Quickly pour the hot mixture onto your prepared sheet on top of the chocolate chips. Quickly spread mixture as evenly as possible making sure you've covered your pretzels & spent grain.
Lightly sprinkle coarse salt over the top, if desired.
Allow to cool for at least an hour or until brittle and chocolate have set up. Break into pieces.
---
2nd Place, Donna Speirs' Spent Grain Waffles
Ingredients
70 grams dried, ground spent grain
70 grams white flour
20 grams cornstarch
1 tablespoon baking powder
⅓ cup turbinado sugar
4 teaspoon salt
2 teaspoons cinnamon
1 egg divided
¼ cup vegetable oil
1 cup milk
1 tablespoon vanilla
1 teaspoon almond extract
NOTES: Cinnamon, other spices, other extracts are all interchangeable
Instructions
Preheat waffle iron.
Mix dry ingredients in a large bowl.
Beat egg white until stiff peaks.
Mix all wet ingredients except eggwhite into the dry ingredients.
Carefully fold in half of the egg whites with a spatula. Fold in the second half. Try to keep as much volume as possible.
Cook each waffle in a waffle iron until crisp.
Note: Spent grain is dark–waffles may appear more done as a result so cook until crispy.
Store in a refrigerator and reheat in a toaster until crisp and hot. Serve with syrup and butter.
---
3rd Place (tie), Kim Orr's Chocolate Crinkle Cookies
Makes 22 cookies
Ingredients
1.25 oz spent grain flour (fire pit stout)
3.75 oz all purpose unbleached flour
1 1/4 tsp baking powder
1/4 tsp baking soda
1/2 + tsp salt
10.5 oz brown sugar
3 large eggs (room temp)
2 tsp vanilla extract
4 oz unsweetened chocolate, chopped
4 tbsp unsalted butter
3.5 oz granulated sugar
2 oz confectioners' sugar
Instructions
Adjust oven rack to middle position and heat oven to 325 degrees. Line 2 baking sheets with parchment.
Whisk flour, cocoa, baking powder, baking soda, and salt together in a bowl.
Whisk brown sugar, eggs, and vanilla together in a large bowl. Microwave chocolate and butter in a bowl at 50%, stirring occasionally, until melted. 2-3 minutes.
Whisk chocolate mixture into egg mixture until combined. Fold in flour mixture until no dry streaks remain. Allow dough to sit at room temperature for 10 minutes.
Place granulated sugar and confectioners' sugar in two separate, shallow bowls. Divide dough into 2-tbsp portions and roll into balls. Drop balls of dough directly into granulated sugar, roll to coat. Transfer to confectioners' sugar and roll to coat. Evenly space dough balls on prepared baking sheets, 11 dough balls per sheet.
Bake cookies, 1 sheet at a time, until cookies are puffed and cracked, and edges have begun to set but centers are still soft, about 12 minutes, rotating sheet halfway through baking. Cool completely on baking sheet before serving.
---
3rd Place (tie), Sue Scott's Spent Grain Energy Bars
Ingredients
1 cup old-fashioned oats
1 cup spent barley from brewing, dried
1/2 - 3/4 cup raw almonds
2/3 cup brown sugar
1/2 cup honey
4 tablespoons butter
2 teaspoons vanilla extract
1/2 teaspoons salt
1/2 - 3/4 cup dried cherries
Instructions
Preheat your oven to 400 degrees. Combine your oats and raw almonds on a sheet tray and toast in the oven for six to seven minutes, stirring halfway through to prevent burning.
Meanwhile line an 11X13 baking dish with wax paper or parchment and spray with non-stick spray.
Put brown sugar, honey, butter, vanilla, and salt in a small saucepan and bring to a simmer.
Combine slightly cooled oats and almonds in a medium sized bowl with spent barley and dried cherries.
Pour brown sugar mixture over oats mixture and combine.
Pour into prepared dish and let cool 2-3 hours. Cut up and wrap individually if you like.
---
1st Place, Cheryl Johnson's Doggy Beer Liver Treats
Ingredients
1 cup rolled oats
1 cup spent grain - dried
½ cup corn meal
½ pound beef liver
2 large eggs
1 tablespoon vegetable oil, or more as needed
Instructions
TIP: Light a candle while baking if you don't like liver. 😊
Preheat the oven to 325 degrees F (165 degrees C). Line a cookie tray with parchment paper.
Place livers in the food processor and process until smooth, 10 to 15 seconds. Add eggs and blend until well combined, about 10 seconds. Add oil and process until incorporated.
Add cornmeal, spent grain and oats. Stir until well blended. Spoon onto the prepared cookie sheet.
Spread out mixture into rectangle about ¼ inch thick.
Bake in the preheated oven for 30 min.
Take out and cut into whatever size treat you want. Separate pieces and return to the oven for 15-20 min.
Remove from the oven and let cool completely.